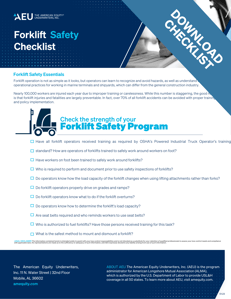 A forklift (also called lift truck, fork truck, and forklift truck) is a powered industrial truck used to lift and move materials and cargo over short distances. When working on or near large vessels, these powerful vehicles may be used on ramps and grades, to stow cargo, to load or discharge cargo in the cargo hatch on ships, and more.
Forklifts are a common sight at maritime terminals, as are container top handlers, container reach stackers, straddle carriers, hustlers, toploaders, semi-tractor vehicles, sidehandlers, and yard tractors. Shipyards commonly use forklifts of various sizes, all terrain forklifts and telescoping forklifts.
11% of all forklifts are involved in an accident each year. About half of these accidents result in either a serious industry or a death. According to OSHA, forklift overturns are the leading cause of fatalities related to the use of forklifts, accounting for nearly half of all fatal accidents. Other incidents that are associated with using forklifts include falling from a forklift, loads falling on workers, not using a seatbelt and being ejected, and not following the proper procedures while traveling on grades or ramps.
Forklift operation is not as simple as it looks, but operators can learn to recognize and avoid hazards, as well as understand the proper operational practices for working in marine terminals and shipyards
Nearly 100,000 workers are injured each year due to improper training or carelessness. While this number is staggering, the good news is that forklift injuries and fatalities are largely preventable. In fact, all forklift accidents can be avoided with proper training and following basic safety rules for operating forklifts. It's not only a good idea for the safety of your employees, it's the law: OSHA requires training programs to combine formal instruction, such as lectures and written material, with practical training and a workplace performance evaluation.
This checklist can be used as a foundation for assessing the strength of your forklift safety program.


Safety Checklist: Key Components of a Forklift Safety Program
Have all forklift operators received training as required by OSHA's Powered Industrial Truck Operator's training standard?
How are operators of forklifts trained to safely work around workers on foot?
Have workers on foot been trained to safely work around forklifts?
Who is required to perform and document prior to use safety inspections of forklifts?
Do forklift operators properly drive on grades and ramps?
Do forklift operators know what to do if the forklift overturns?
Do operators know how to determine the forklift's load capacity?
Are seat belts required and who reminds workers to use seat belts?
Do operators know how the load capacity of the forklift changes when using lifting attachments rather than forks?
Who is authorized to fuel forklifts? Have those persons received training for this task?
What is the safest method to mount and dismount a forklift?

Additional Forklift Safety Resources
For additional guidance on safe forklift operation, ALMA members may access our Safety Bulletin on this topic by clicking here. Contact us if you have any questions or would like additional information.


---

Applicable OSHA Compliance Information

Article Resources