Many shipyards, marine cargo handling facilities, and marine construction environments have successfully implemented ergonomic solutions that not only reduced the costs of workplace injuries but also maximized operational efficiency by designing job tasks and work environments based on human capabilities and limitations. This approach is known as the science of ergonomics.
Here are six simple concepts and examples that you can apply in your workplace to do the same.
1. Go-Green: Work in Your Power Zone
In my previous blog, Beyond the Desk: Understanding Ergonomics in Maritime Work Environments, I introduced the stoplight method, Go-Green: Work in Your Power ZoneTM.
The goal of the Go-Green concept is to work in the Green and Yellow zones for most of the workday. When working in the Red Zone, employees should stop and ask themselves, "How can I get in a better position to minimize my risk of injury and fatigue, and maximize my efficiency?"
Here are two simple ways to get in the Green Zone:
Raising the work off the ground or floor and placing it between mid-thigh and chest height reduces the risk of a back injury, improves efficiency by eliminating non-valued added bending motions, and accommodates an aging workforce that may have issues with repetitive back bending.
Raising the work off the ground or floor and placing it between mid-thigh and chest height reduces the risk of a back injury, improves efficiency by eliminating non-valued added bending motions, and accommodates an aging workforce that may have issues with repetitive back bending.
Since your upper body is half of your total body weight, bending to the ground places more strain on your back, requires more energy, and takes more time (2.2 seconds per bend to the floor). This may not seem like much until you multiply this number by the number of people and the cost per hour. The result could be hundreds of dollars per day, just from lifting objects from the floor!
Simple solutions to raise the work include stacked pallets, saw horses, stands, racks, carts, or lift tables.
When performing work overhead, raise the employee by using a step ladder, platform, staging or condo-lift to keep their hands in the yellow zones. Working with the hands overhead in the red zone reduces your shoulder strength by 40% due to the biomechanical disadvantage of the body position.
Another solution using this concept is to raise the employee off their hands and knees by using stand-up grinders, long reach needles and stand-up tools with long reach handles.
Examples of solutions that allow you to work in the Green Zone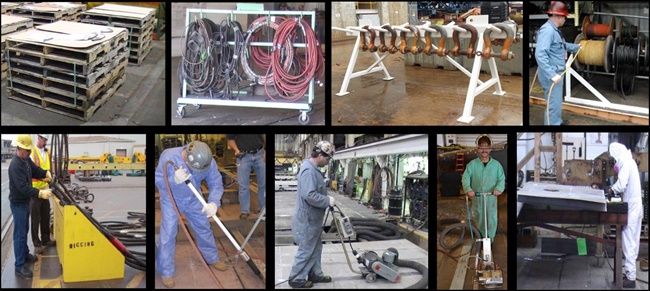 Sometimes a process sequence change can be implemented. One shipyard changed its process of installing pins from an overhead position to a down-hand position, eliminating the ergonomic risks to the shoulders and fall hazards from working from a ladder. The new process was 2.7 times faster with less safety and ergonomic risk.
2. Use a wheel
By using the concept of a wheel, heavy or awkward tools, equipment and materials can be easily moved with little effort. Solutions include carts, dollies, hand trucks and pallet jacks to transport heavy objects a long distance. Placing wheels on heavy equipment, such as a welding plasma machine, can replace an 80 lbs. lift and carry with a 15 lbs. pull needed to move the equipment. Wheels can also be placed on heavy cable jacks and stack blowers. Using a steel pipe will allow heavy equipment to be moved or positioned in place when overhead hoists are not available, such as on a ship. The use of a roller can reduce friction and effort when pulling cables around corners.
Examples of solutions that use the "wheel" concept


3. Lighten the Load
Find ways to lighten the load of objects, tools and equipment that are lifted, carried or held in place. Examples include lighter-weight drills, grinders, and welding equipment. Place handles on equipment and material to improve lifting and carrying or allow two people to lift and carry. Tool balancers, support arms and pulley systems can be utilized to reduce the weight of heavy tools. One Terminal Mechanic Shop build a support for a heavy lug wrench that has been successfully used.
Reducing the weight of material can be achieved by cutting the material in half (i.e., two smaller pieces instead of one large piece), removing excess material, or substituting aluminum in place of steel. One shipyard successfully replaced their steel hydro-test fittings with aluminum fittings, resulting in a 67% reduction in the weight mechanics carried on a daily basis and 5,000 lbs. per ship construction.
To reduce strain on the shoulders, back and knees when carrying heavy tools and equipment and climbing ladders, use a backpack that evenly distributes the weight across both shoulders and utilizes a hip belt. A dual shoulder strap backpack with a hip belt can easily reduce the weight on the shoulders by 70%.
Examples of solutions that use the "lighten the load" concept


4. Mechanical Assistance
When a high force application is needed, such as lifting, pushing, pulling or gripping, use mechanical assistance to reduce the effort and strain on the body. Examples include forklifts, lulls, overhead cranes, hoists, vacuum lifts, work positioners, drum lifters, magnets, powered stair climbers, and powered tools.
5. Support the Body
When it is not possible to get into a better position and you must work in the Red Zone, find ways to support the body to reduce the weight of your arms, head and trunk and reduce stress to your knees and joints. Examples include creeper stools and seats when working in tight spaces or underneath equipment and structures. Padding and cushions can protect soft body parts such as the knees, elbows, hips, ribs, and head from hard or sharp materials and equipment.
Examples of solutions that "support the body" concept


6. Reduce Vibration
Daily and long-term usage of high vibration tools can lead to injuries of the blood vessels, nerves and muscles of the fingers, hands, wrists, and arms. Standards and guidelines on vibration levels and duration of exposure can help identify tools and jobs of higher risk. One shipyard successfully used these guidelines to classify tools and jobs as red, yellow or green based on vibration levels and exposure. The result was a 50% reduction in injuries, a 75% reduction in vibration levels through improved tooling and process changes, and a return-on-investment (ROI) of over 5,000 percent.
Examples of solutions to minimize vibration include two drops of oil for every two hours of tool usage, tool preventative maintenance programs to replace worn and damaged components, using the right tool for the job (i.e., large tools for large jobs, and small tools for small jobs), and matching the tool RPM, horsepower and consumables to the job requirements.
The key to a successful ergonomics program is prevention. By using these concepts to identify higher risk jobs and effective solutions, you can minimize risks and costs of workplace injuries, enhance employee comfort and ease of use, and maximize operational quality and efficiency.
Remember, prevention is the key; take the time to evaluate your workplace and implement some of the solutions in this article and others in my ergonomics blog series:
GoGreen Work in Your PowerZoneTM images and materials are © 2018 ErgoHP LLC. For permission to use them in your facility, please contact Ben Zavitz at brzavitz@icloud.com.